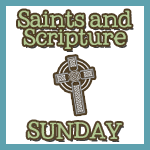 The name of the LORD is a strong tower;
the righteous run to it and are safe.
~ Proverbs 18:10
Safety is something on all our minds right now, I think.  Hopefully not moment-to-moment physical safety for most of us, but other, more subtle safety concerns.  We worry about the economy – are our jobs safe?  What about our investments for the future?  As parents, we worry about the safety of our children in this era of increased peer pressure and bullying.  I feel like a majority of my prayers anymore are pleas for safety in some way.  How about you?  Join Dianna for Saints and Scripture Sunday and share what's on your mind.