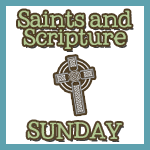 Do you not know?
Have you not heard?
The LORD is the everlasting God,
the Creator of the ends of the earth.
He will not grow tired or weary,
and his understanding no one can fathom.
He gives strength to the weary
and increases the power of the weak.
Even youths grow tired and weary,
and young men stumble and fall;
but those who hope in the LORD
will renew their strength.
They will soar on wings like eagles;
they will run and not grow weary,
they will walk and not be faint.
~Isaiah 40:28-31
I was searching for scriptures about balance this week – trying to balance all my responsibilities and meet all the challenges of day-to-day life.  I found this one after I'd given up on writing a Saints and Scripture post this week – I was just kind of poking around randomly on a favorite Scripture site.  "Weary and weak" sums up quite well how I've been feeling – overwhelmed and exhausted, unable to meet my own needs, let alone those of the people who rely on me every day in one way or another.  But since God decided to whack me over the head with this particular bit of Scripture I'm going to stop worrying about it and just trust that He will give me the strength to get done what needs to get done.