All things, whatever you ask in prayer, believing, you will receive. ~ Matthew 21:22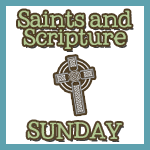 I am the first to admit I'm not the most traditionally "spiritual" person you'll ever meet. My beliefs don't mesh 100% with any organized religion, and I'm just not fond enough of people to found my own religion. (Sorry – just being honest). But constant, severe pain changes a person. I left the church I'd attended for many years almost two years ago, about six months into this whole "neck pain ordeal". I had good reasons, and I know it was the right move for me and my family. I balked at finding a new church home, though. I still prayed, still read the Bible, still tried to live as a Christian. But I wasn't ready for "public spirituality". I needed time to examine my relationship with God in terms of what I was going through.
Then, last Tuesday, I had a myelogram. This was a last-ditch effort to find the source of my pain, and the neurosurgeon had made it very clear that if it didn't show anything he had nothing to offer me. And my pain management doctor had already thrown up his hands and given up. So I prayed. At first I prayed that the test would show a cause for my pain. But then, for some reason, I began to feel very strongly that the test was going to be normal. I felt it so strongly I could practically hear the neurosurgeon's voice telling me my results. So I took a deep breath . . . and gave up. I prayed that God would help me accept whatever the test showed. I just kept repeating "Thy will be done. Thy will be done." Now please realize, and am so NOT a "Thy will be done" sort of person. I pray with an agenda. And it's prioritized. And it has a timeline.
So when I stood there at the printer and read my myelogram report (got tired of waiting on a call from the doc) I cried tears of relief and happiness. My cervical fusion from two years ago had never fused. It was very clear why I was having severe, constant neck pain. And it was fixable. So although I'll be having a complicated, high-risk neurosurgery in about a month I am celebrating – because my prayers have been answered. And yes, today I am heading out in search of my new church home. Thanks be to God.
Share what's going on spiritually with you this week at Saints and Scripture Sunday.