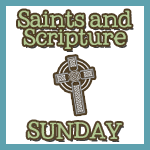 Psalm 46:10 – "Be still and know that I am God."
How are you are being still?  Me?  Not so good.  It's not so much the constantly being in motion (although I usually am) it's the "mental business" I can't let go of.  I get twitchy if I'm not doing three or four things at one time.  For the past few months I've found myself nearly incapable of sitting through an entire movie, or of sitting still while I'm talking on the phone.  I've given up caffeine for Lent, but that hasn't helped.  It's only caused me to fantasize daily about Chic-Fil-A's sweet tea and a Starbuck's grande cinnamon dolce latte.  Oooh, or maybe a Beekeeper from Java Brewing Company! *sigh*
I even multi-task while I'm praying.  I pray in the shower, I pray while I'm driving, I pray while I'm cleaning house or cooking.  Next month I'll be doing a lot of "being still" physically, and I'm already nervous about it.  I'm making lists of books to read and movies to watch while I'm on bedrest.  I love the idea of meditation, and I've tried it numerous times over the past thirty years, but I've found "clearing my mind" to be a Herculean task.  Anyone out there actually good at "being still"?  Life-long multi-taskers who've learned who've learned to just "shut down" for a little while?
Join Dianna over at
The Kennedy Adventures
today for Saints and Scripture Sunday.  She wrote a lovely post about "breaking the facade" that really hit home with me!