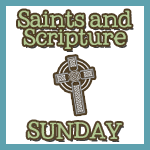 Two are better than one, because they have a good reward for their toil. For if they fall, one will lift up his fellow. But woe to him who is alone when he falls and has not another to lift him up! Again, if two lie together, they keep warm, but how can one keep warm alone? And though a man might prevail against one who is alone, two will withstand him—a threefold cord is not quickly broken. ~ Ecclesiastes 4:9-12
I'm very lucky in that I found the love of my life, my soul mate, at an early age. Not everyone gets so lucky. Some have to marry more than once before they find "the right one", and some find their soul mate and are able to share their lives with them, but are for one of a multitude of reasons not able to marry. Some simply find their perfect match – the one who can lift them up – later in life.
Saturday my Dad married his soul mate. Don't get me wrong, I'm thrilled my Mom and Dad were married for the years they were. After all, otherwise I wouldn't be here, and neither would my brother, Randy. . . (short pause while I think about if their marriage had been several years shorter). Just kidding, Randy!
Anyway, Mom married Greg, her soul mate and perfect match, a couple of months after Michael and I married. They are a perfect pair and have weathered many storms together, coming through them stronger than ever. Greg is grandfather to my children and the sole person to whom I would trust my mother's well-being. He loves her dearly.
Saturday Dad married Edie, who has become one of my closest friends. And I have to say that she is the sole person to whom I'd trust my father's well-being. Watching them together at dinner the night they got married, seeing their smiles, I know they were meant to be together. They will face any troubles that come their way and come out the other side stronger. And Edie has already brought our family closer – she's a very special person that way.
So congratulations to Dad and Edie – I'm so happy I could be there on your special day!
By the way, this is the view as you step out the front doors of Old Union, the church where Dad and Edie got married and the church where I was baptized and married.  To think I took views like this for granted all those years!