The Lord is my light and my salvation – of whom shall I be afraid?  ~Psalm 27:1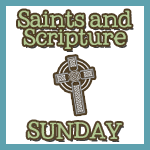 I hadn't realized how afraid I had been until the relief washed over me.  I went to my first postop visit with my neurosurgeon this week.  My activity tolerance has been slowly increasing, but I still tire very easily.  My incision is healing beautifully.  But the pain hasn't changed.  If anything, the pain in my neck and back is slightly worse than before surgery.  I was afraid.  I was afraid that when I told my surgeon this he would be surprised.  Concerned.  Perhaps even frustrated.  But he wasn't.  He said that he didn't expect me to have any relief from the pain in just three weeks, but that I should have a significant improvement during the next month.  So here's to the next month – the next big step in my recovery!
Join Dianna every week for Saints and Scripture Sunday at The Kennedy Adventures.