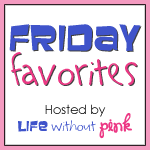 Top Chef: Toddler on The Flying Chalupa: laughed myself silly, but I want vlog coverage of the next episode!
Alarm Clocks Suck on Walking on Eggshells: because her dogs are so adorable and I've also tried to convince my dog to make me coffee. And she hosted a Blog Hop last weekend – maybe this weekend, too??
Alaskan Globetrotters on The Mommy Machine: with appropriate music and everything. You just can't get any cuter than basketball in boots and a cat tail!
"Can't" is not a Four Letter Word on The Professional Family Manager: made me smile and heave a sigh of relief. This was something I really needed to hear from someone else to know it was OK.
Have some favorite posts from this week? Something or someone that just made you feel good? Link up! These are fabulous memes to help you organize your thoughts and count your blessings.