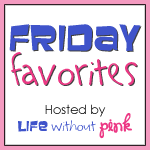 Here are my favorite posts from this week:
My Only Blind Date Part I and Part II from Nice Girl Notes ~ I couldn't stop giggling at Part I, and just loved the way things wrapped up in Part II.
If You Take a Mom to Target . . . from Feels Like Home ~ I feel SO much better now that I know I'm not the only one with retailer-specific ADD.
Breakfast Saturday: Low Country Breakfast Casserole from Beverly's Back Porch
and
Breakfast Sunday: Pumpkin Spice Donut Muffins from StrawBerry CAKE
~ Thanks to these ladies my family will be eating WELL this weekend!