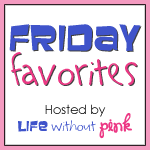 Life Without Pink just started a wonderful new meme called Friday Favorites. What are your favorites of all the blog posts you've read this week? Write a post giving them a shout-out and link it up! I can't wait to read everyone else's (I'm nosy like that).
This recipe from October Farm. I have to admit I follow her blog for the pictures of her gorgeous garden and Teddy, her adorable dog, so a great recipe is just icing on the cake!
A funny story and a yummy recipe from Beverly's Back Porch. I know Beverly enjoyed writing this one as much as the rest of us enjoyed reading it, and isn't that what blogging is all about?
A butt-sniffing post from The Mommyologist. If you're a parent, you've done it – admit it!
A really funny post about a visit to the OB/GYN's office. Now I want to switch docs.
A list of things that make her twitch from Sarah at Trying to Survive. She had me at #3.