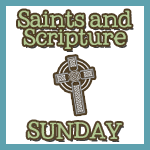 When you have eaten and are satisfied, praise the LORD your God for the good land he has given you.
~Deuteronomy 8:10
There are so many things I am thankful for right now: my family, my friends, my health, my job, my home.  Unfortunately, I am NOT feeling particularly tolerant right now of people who have been abundantly blessed  in their lives and are NOT thankful.  So take the whining elsewhere, please.
Odds are you will find someone with a more accepting and Christian attitude at Saints and Scripture Sunday, so by all means check it out.