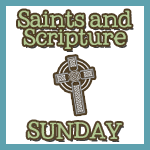 Romans 8:28
And we know that in all things God works for the good of those who love him, who have been called according to his purpose.
This is God's will.  Everything happens for a reason.  We've all heard it a million times, but I know very few people who can hold onto that unquestioning belief though every crisis.  The word that keeps popping into my mind is "potential".  Maybe I can't understand right now how there can be a purpose behind what's happening, how something positive can come out of a negative situation.  But I'm trying to see the potential.  The potential for growth, perhaps.  For a change that would have never occurred otherwise.  Opportunity.  Getting an extra hour of sleep can really turn things around, huh?
Join Dianna at The Kennedy Adventures every week for Saints and Scripture Sunday!