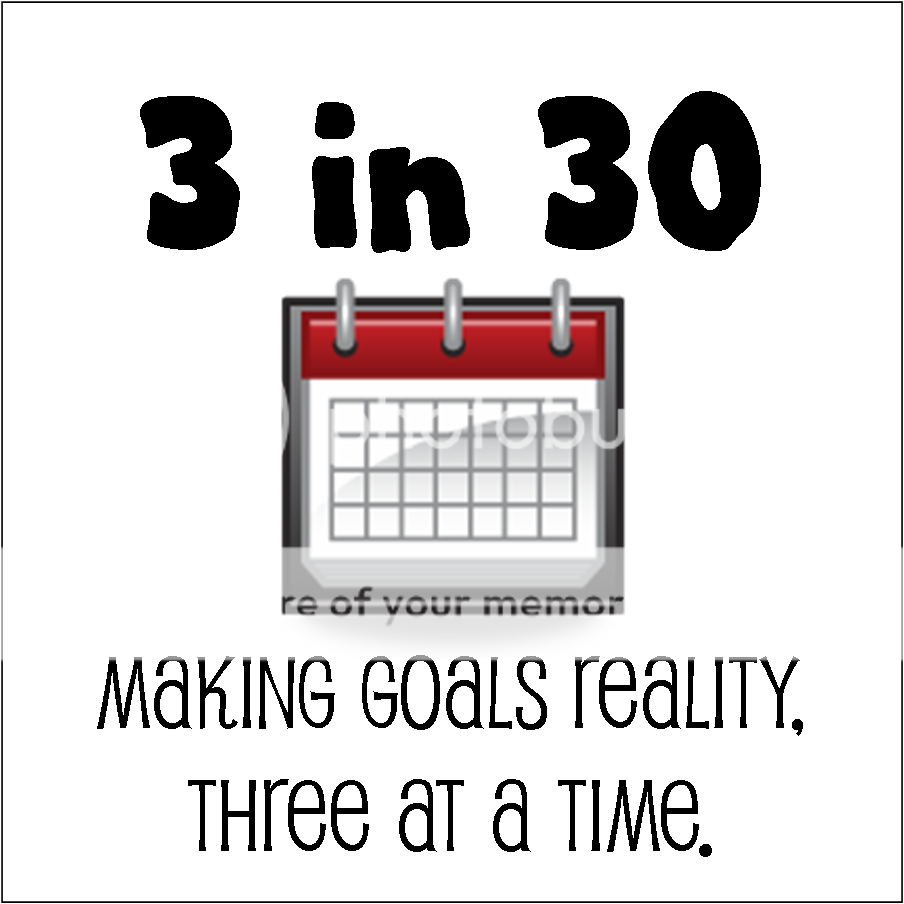 Yes, I've been a slacker blogger this week, but I have not been a slacker overall.  It's been an outrageously busy and stressful week at work, but I've still managed to get off to a fair-to-middling start with 3 in 30 this week.  The general idea is to select three attainable goals for the month and link up once a week to share your progress so we can all be supportive of each other.  I've set a dozen or so goals for the year, divided evenly among three categories: Home, Health, and Happiness.  Some of them are large (lose fifty pounds) and will be broken down and spread over the year.  Some (refinish the credenza in the living room) can be done in a weekend.  Some I have complete control over (submit my novel to at least 6 agents or publishers) and some I will need a lot of assistance with (decrease neck pain to a level of 3/10).
This month's goals were sort of selected by default.  The Home goal is to follow the Fly Lady plan for keeping my house clean and organized.  This week was not so great, only two days out of four did I do my "15 minutes".  I hope to make up for it over the weekend.  The Health goal this month will be to get 8 hours sleep at least 4 nights a week.  This is usually pretty challenging considering I get up for work at 3:15 a.m. five days a week, but this week I've been so exhausted I've fallen into bed right after supper nearly every night.  My Happiness goal is the first step toward one of my larger goals, taking at least 6 writing classes this year.  I am currently enrolled in an online writing class, and I'm loving it!  I was always the nerd who loved school, so this is no surprise.  It has been fun, thought, to tell the kids, "No, you can't have the computer, I'm doing my homework!"  It sounds so much better than "Not right now, I'm Tweeting!"  And the class is all about writing a query letter and synopsis for submission to agents and publishers, so I'm actually working on two Happiness goals at once!
Did you make New Years' Resolutions or set goals for the year?  How are you progressing and how are you holding yourself accountable?
Copyright secured by Digiprove © 2011