Matthew 19:13-15


Then little children were being brought to him in order that he might lay his hands on them and pray. The disciples spoke sternly to those who brought them; but Jesus said, "Let the little children come to me, and do not stop them; for it is to such as these that the kingdom of heaven belongs." And he laid his hands on them and went on his way.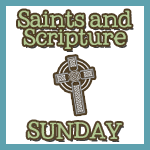 To me, being childlike in my faith means enjoying the simple things and living in the moment – valuing each day for the small joys it brings. It means smiling and laughing often, and not taking myself too seriously.
Drop by The Kennedy Adventures for Saints and Scripture Sunday every week and share!