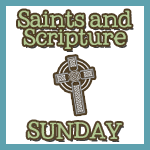 Now as they went on their way, he entered a certain village, where a woman named Martha welcomed him into her home. She had a sister named Mary, who sat at the Lord's feet and listened to what he was saying. But Martha was distracted by her many tasks; so she came to him and asked, "Lord, do you not care that my sister has left me to do all the work by myself? Tell her then to help me." But the Lord answered her, "Martha, Martha, you are worried and distracted by many things; there is need of only one thing. Mary has chosen the better part, which will not be taken away from her" (Luke 10:38-42)
I love this scripture, because it speaks to me about one of my biggest flaws – I am a Martha.  No, I am a Martha with an oak leaf cluster, a Martha on steroids.  I have lists of things that need to be done, lists of things I need to think about doing, lists of things I need to talk someone else into doing, and a horribly long list of things that should have already been done.  I feel guilty on the rare occasions I do just one thing at a time, because in order to get all this done I should be doing three or four things at once – and usually I am.  But when I just take the time to savor the moment, to enjoy  interacting with one person for a chunk of time without an agenda to be addressed . . . it's wonderful. 
Last weekend I traveled several hours to a family wedding. I spent the trip there and back reading, planning blog posts, clearing out my Google Reader, tweeting, and fighting the neck and back pain that has ruled my life the last two years.  But at the wedding and the reception, and at the hotel before and after I was Mary.  Oh, OK, dammit, I wasn't totally Mary.  I took some pictures and asked questions that will show up in later blog posts about reception centerpieces, being a mother-in-law, and what teenage boys talk about when they think the only adult in the room is asleep (that will be a GREAT post), but I was more Mary than Martha for once.  I enjoyed listening to my brother-in-law, Patrick, discuss his college days with my amazed and appalled nieces.  I laughed watching my youngest son and his cousin use my iPhone to take videos of their ties and make them talk.  I had breakfast with a second-cousin-in-law who has somehow grown up overnight into a charming, brilliant, funny, and thoughtful young man who I'm sure will turn the world on its ear one day soon.
I WANT to be more Mary, less Martha, but is that possible?  I'm not sure.  I do know that I will probably never think of this scripture without visualizing Martha as very much like me – rumpled clothes and windblown hair, hands on hips and eyes rolling as she sees Mary (freshly pressed and well-coiffed) sitting serenely at Jesus's feet while Martha does all the work.  And I apologize in advance but I have to say this: Don't you think Jesus was probably pretty happy later that SOMEONE had fixed him a nice, hot meal and made up a bed with clean, sweet-smelling sheets?  If it was a woman writing this gospel they'd have included that part.  Are you a Martha or a Mary?  If you manage to be somewhere in between, please tell me how!