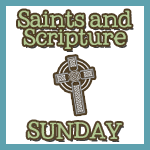 Luke 12:48 From everyone who has been given much, much will be demanded; and from the one who has been entrusted with much, much more will be asked.
I know, I'm all hung up on Luke lately for some reason. I actually didn't even realize this was from Luke, but I've been hearing it in my head all week like a bad 80's song, so I thought this was probably what I was supposed to post about today. This is an excellent scripture for those "Why Me?" days. If you've been given strength, intelligence, and good friends it's because you're going to need them. So when difficulties arise, don't whine, just remember God won't give you a challenge unless He has either prepared you to handle it or provided someone in your life who can help you though it. I guess there's a good reason this has been running through my head all week!
Join Dianna every week for Saints and Scripture Sunday!