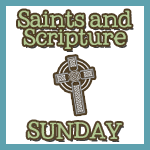 I'm church shopping. Yeah, it would sound better if I said I was "searching for a church home for our family", but it's all semantics, really. I'm church shopping. And last week I went to a church about 15 minutes from our house called "St. Frances of Rome". I really liked it, it felt good, so I came home and did a little research on St. Frances. Turns out she was a woman who lived in Italy in the late fourteenth and early fifteenth century. She wanted to join a religious order, but her parents insisted she marry. Turns out her husband was pretty cutting-edge for that day and time, and was fine with her spending a large amount of her time tending to the poor and actually establishing a hospital in their home. She founded an order of women who took no religious vows, but still devoted themselves to service to God and to the poor. Here is a quote attributed to her:
"It is most laudable in a married woman to be devout, but she must never forget that she is a housewife. And sometimes she must leave God at the altar to find Him in her housekeeping."
This was a woman who knew how to achieve balance in her life! One of the main reasons she was able to do so, however, was her husband. Her husband understood her and was supportive of a cause she believed in. She, in turn, didn't forget that he needed her, too. Today's Valentine's Day, and I am happy to say that I have been blessed with a husband who understands me and supports me in all my endeavors. I hosted a Pampered Chef party Friday night, an event that would have sent many husbands heading for the hills, but Michael was right there taking coats and purses, keeping little ones entertained, even valet parking
Dianna
's car when she was (in her words) "parking like Ray Charles". My husband ROCKS, and here's proof that he's pretty much ALWAYS rocked (in one way or another):
That's Michael second from the left, as drummer for Strict9. This picture was taken December 9, 1980, the day after John Lennon was killed. He's still a drummer, but he rocks most these days as a husband and father. Thanks, Michael, for being you – I love you more every day!