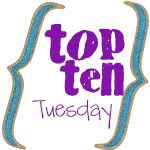 These are not my most popular posts of 2011.  Those are all about people to follow on Pinterest and recipes that were a surprise success.  These are the ones that may not have gotten as much attention, but that I think are more important, more representative of my blog.
Anti-Bullying Month – because I suspect bullying has only gotten worse since we were kids.
Foods and Drugs You Can and Can't Give Your Dog – As a dog lover this is probably the most important post I've ever written.
The Truth About the Pain The post that explains why I'm in constant pain and unemployed
Ten Good Things About an Unexpected Financial Crisis – because there really are good things, I swear.
Housebreaking Your Dog – This really does work.
I Have Given Birth – Somehow, with inspiration born of desperation, I wrote and self-published an ebook this year.
Ten Most Annoying Family Members – I guest posted at Dianna's for this one so I could speak freely, but it explains why I have small family gatherings on the holidays.
Ten Reasons I Love my Kindle – the device that won over a die-hard hardback girl
Surgery Prep – truly helpful before any serious surgical procedure
St. Jude, Patron Saint of Lost Causes – this post contains the prayer I prayed daily while my world seemed to crumble around me.  All my problems aren't resolved, but I do credit St. Jude's intercession for many of my blessings near the end of this year.
Priced at just $4.99, it is now available in every format your little heart could desire at Smashwords, or, if you prefer, it's also for sale in a Kindle version at Amazon or a Nook version at Barnes and Noble!