I didn't even realize this until I read this post about it over at This Lil Piglet. But the post haunted me. It brought back memories of my own sixth-grade year, and refreshed the memories of my youngest son's fourth-grade year. So I'm linking up with Shell for Pour Your Heart Out.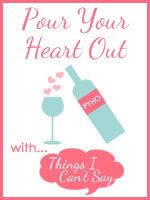 I went to a very small rural elementary school, with about thirty kids total in each grade. It was wonderful. Then we moved away to a neighboring county for my fifth grade year. That was okay, too, although changing schools is hard for any kid. Then we moved back for my sixth grade year, and I was thrilled that I would be reunited with all my old childhood friends – the girls I'd spent every recess playing with, the ones who'd congregated at each other's houses for birthday sleepovers, who'd done gymnastics classes and ceramics classes together. But that wasn't how it happened.
Evidently one of the girls I'd considered a close friend felt threatened by my return to school, and went to great lengths to make sure I wouldn't be welcomed back by my old friends. I didn't know what had happened – I actually didn't find out until many years later. All I knew was that all my friends were ignoring me, and saying mean, cruel things to me when the teachers were out of earshot. I sat alone at recess, ate alone at lunch. Our teacher obviously did notice what was going on, because I remember her rounding the other girls up, putting her arm around me, and telling them all to "stop being mean to Angie". Of course all that achieved was adding "teacher's pet" to the hissed insults. Those long country bus rides were hell. I begged my mom not to make me go to my sixth grade graduation. I just didn't want to stand there with people who hated me for a reason I couldn't understand. I couldn't explain to my mother what was going on, though, since I didn't really understand it myself. So there are pictures of me in a striped dress at graduation, a rictus of a smile on my face.
I eventually made new friends in junior high, although it was hard since I didn't have the self-confidence I once had. Most of the girls from elementary school went to the same junior high and high school I did, but we were never friends again. At some point in high school one of them did finally tell me what Christina had done way back in sixth grade. She'd pulled each girl aside individually and told them I'd said horrible things about them. With the special sense mean pre-teen girls have she zeroed in on the thing that would be most hurtful, most unforgivable, to each one. I don't know what she said to everyone, but I know she told Anna, a brilliant, beautiful, talented girl with the most infectious laugh I'd ever heard that I'd made some sort of racial slur about her. I mourned losing Anna's friendship for years  – all over Christina's vicious lie. I didn't know at the time I was being bullied. Back them bullies were boys who hit other boys, not spiteful little girls who set out to make other little girls' lives miserable.
John's bully was named Isaac.  He was physically smaller than the other boys in the class.  Again, not your "typical bully".  He taunted John throughout his fourth-grade year at the parochial school connected to the church we'd attended for many years.  His bullying tended to be of a sexual nature.  He'd push John toward the girls' bathroom and tell him he should be going in there, not the boys'.  He'd tell other boys that if they hung around with John at recess or lunch that they were "gay".  When a girl invited the whole class to her birthday party Isaac insisted she and her friend go to John at recess and tell him that even though he'd gotten an invitation they really didn't want him to come to the party.  Isaac drew obscene pictures and cruel insults on John's desk, folders, and books.
When John finally told us about it (after it had been going on for months) his teacher flatly denied that there was any issue.  She said it was just "boys being boys".  I went to the school counselor and the principal, who inspected his desk and supplies and found the written evidence of what was going on, and even heard the taunts in the classroom.  When called into the counselor's office Isaac pretended to be penitent, but the counselor heard him threaten John on his way out of her office.  She referred to him as "an Eddie Haskell" – telling the adults what they wanted to hear while continuing to bully the other kids as soon as they were out of earshot.  The one time John stood up for himself and threw a ball harder than he should have at Isaac in gym class John was the one punished.  All of this, mind you, in a Catholic school with a "strict no-bullying policy".
At the same time all of this was coming to a head there were other changes going on in the school and the parish that made me start to wonder not only if John belonged at this school, but if our family belonged in this parish at all.  I talked John into finishing the year (by the time we'd reached this decision the school year was only a couple of weeks from being over) so that he could start his new school the next year without a blemish on his academic record, but I told him to go immediately to the office and call me if he was made uncomfortable in any way, and I told the principle that I would be leaving work and picking him up from school at the first hint of bullying.
All this just to say: Talk to your kids about bullying, especially the more subtle varieties, and encourage them to come to you if they feel harassed in any way.  Watch for any changes in their behavior and quiz them in detail about how things are going at school.  Do not ever tell you child to "just ignore" a bully.  Contact your child's teacher, counselor, principal – insist someone take action.  If they can't or won't, get your child out of that situation.  We switched John to a new school and he has blossomed in the years since.  He has fantastic friends who share his interests, a much more active social life than mine, and a maybe-sorta-kinda girlfriend who lives around the corner.  I'm just sorry I didn't get him out of that situation sooner.  Be an advocate for your child and show him or her that bullying isn't allowed.  Because bullies don't change much as they grow up unless someone intervenes early.
By the way, Christina and Isaac are the bullies' real names.  You change names to protect the innocent, not those torturing the innocent.
And because I think this is a really important topic, I'm linking up to Share Your Awesome at Momma Made It Look Easy.
Priced at just $4.99, it is now available in every format your little heart could desire at Smashwords, or, if you prefer, it's also for sale in a Kindle version at Amazon or a Nook version at Barnes and Noble!