"I have told you these things, so that in me you may have peace. In this world you will have trouble. But take heart! I have overcome the world." ~ John 16:33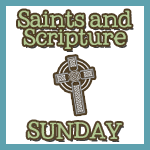 I almost posted this scripture last Sunday, but I was afraid of scaring people.  Last Sunday was pretty much rock-bottom of the "acquisition" at work.  No one could sign up online for benefits, and we'd all been without benefits (including health insurance) for over a week already.  Those of us in charge of payroll couldn't get into the system, and it was looking doubtful that anyone would get paid accurately or in a timely fashion.  When my alarm went off at 3:15 a.m. on Monday I had a hard time getting up and getting ready for work knowing I didn't have insurance coverage and I wasn't on anyone's payroll.  I'm not against doing volunteer work, but I'm not getting up at the butt-crack of dawn to do it.
That said, a lot has changed since last Sunday.  Nearly everyone has now been able to sign up for benefits, and the approximately forty people I checked payroll on will probably be getting paid accurately and on time.  I'm still cancelling doctor's appointments and paying for meds out of pocket since I don't have an insurance card, but I'm optimistic that will change before the end of the month.  Me – optimistic?  Yes.  Because of one person.
Mary.  She's just as stressed-out as the rest of us, and she's not much more in-the-know than the rest of us.  But she keeps trying.  And she knows the right questions to ask.  She's the person I'm putting my faith in to get through this crisis.  Mary was rightly named after a strong woman, and I just hope her value will be recognized as the "acquisition" progresses.  Because in the midst of trouble, Mary is bringing us Peace.