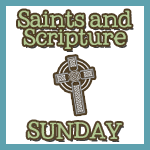 Philippians 4:6
Do not be anxious about anything, but in everything by prayer and supplication with thanksgiving let your requests be made known to God.
This is more a Thanksgiving scripture than an Easter selection, but it's been comforting to me recently. When things in my life get scary or are moving in the wrong direction, or sometimes just moving too fast in any direction I try to remember to "give it up to God in prayer" and not let myself dwell on it any further. That's hard for a control freak like me, but when I do it right I can feel the difference!
Stop by and visit Dianna for Saints and Scripture Sunday.