Jeremiah 29:11 "For I know the plans I have for you," declares the Lord.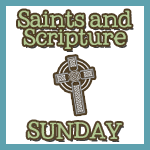 I ran across this scripture a couple of months ago and saved it in my Drafts folder, thinking it would be appropriate for a Saints and Scripture Sunday post at some point.  I just had no idea how appropriate!  As many of you know, I had surgery about a week and a half ago.  I'd been planning for this surgery for a full two months, and thought I had everything covered.  Meals were cooked and frozen, the house was clean, arrangements had been made, the dogs' toenails were even trimmed.  The tornadoes touching down all over our part of the country the night before my surgery should have clued me in, but I was still feeling smug and confident that I had it all under control.  Then, thirty minutes into a surgery expected to last three hours, my husband looked up and saw my neurosurgeon walking across the waiting room toward him.  "Houston, we have a problem."
No, the surgeon didn't say that, but I think it would have been clever.  My husband would have passed out and my mother would have kicked the surgeon's ass, but it would have been clever.  Anyway, while rooting around in my neck getting ready to break out his Craftsman power tools and fix my cervical spine the surgeon had run across a tiny little area that looked like it might be a pocket of infection.  He sent the suspicious goo to the lab, did some power washing, and chatted with some other guys who use power tools while dressed in scrubs.  Long story short, I woke up to the news that my cervical spine was NOT fixed, and that I might be on IV antibiotics for as long as three months before I would be cleared to have the surgery I needed to relieve my pain.
So here I sit, a big incision in my neck, a central line in my arm, attached to some really vicious antibiotics three times a day for the next four weeks.  Then, supposedly, we can try all this again, and after that the six-week recovery for the spinal surgery can begin.  Yes, I had some "poor me" moments those first twenty-four hours, but I can't help but see the humor in the situation.  I can practically hear God laughing, saying, "That Angie, she just cracks me up!  Can you believe after all this she still thinks she's in control?  That she can plan everything out and make things happen the way she wants them to?"  So here's my plan for the rest of this extravaganza:  I'm gonna wing it.  Seriously.  Maybe for once I can just sit back and enjoy my life as it happens.