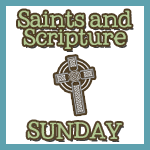 Dianna
tweeted me earlier today asking where my Saints and Sundays post was. I replied that I wasn't doing one unless there was a patron saint of air conditioner repair. As we all know, God has a wicked sense of humor. I'm preparing for my eldest son's high school graduation, I'm up to my earlobes in family drama, and the AC goes out. Then my youngest, bless his little heart, dropped a gallon of milk he was putting in the downstairs fridge for me. It burst and soaked the carpet in the ONE carpeted room in the whole house. Spilled milk in the heat is not pretty.
But I just got off the phone with someone who may just be the living saint of air conditioner repair. My step-dad, Greg. I mentioned him briefly when I told you about my mom, but I didn't explain that Greg is one of those people who can fix anything. Really, anything. He understands plumbing, electrical, automotive engines, construction, and he cooks the best chicken noodle soup I've ever tasted. Yeah, Mom totally hit the lottery with Greg.
I always hate to ask Greg for help with all of those things, because they live over an hour away and he has practically no time to relax. But I felt like I had to warn everyone coming in for the graduation to "dress light" because it's 82 and humid in the house – NOT pantyhose weather. When Mom read the email I'd sent she had Greg get me on the phone, and at 7:30 at night they are on their way in to fix our AC. Michael told Greg what was happening and not happening with the AC, and Greg said, "Yeah, sounds like the blah-blah-blah." He says these things like it's a easy as making a grilled cheese sandwich, but in all honesty I'd be more comfortable performing open-heart surgery than working on an air-conditioning system.
Greg was raised Catholic, and I'm not sure if he was named after Pope Saint Gregory the Great, who essentially saved the world and founded Western Civilization after the fall of Rome, but it fits and I'm going with it.