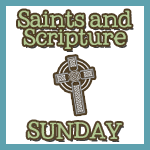 Pop quiz: What do St. Matthew, Scarlett O'Hara, a mysterious 17th-century author, and a country singer have in common? More than you think, I bet.
Matthew 6:34
So do not worry about tomorrow; for tomorrow will care for itself. Each day has enough trouble of its own.
Scarlett: I can't think about that right now. If I do, I'll go crazy. I'll think about that tomorrow.
We worry about what a child will be tomorrow, yet we forget that he is someone today.~ Stacia Tauscher (17th century author)
Go for a walk, say a little prayer
Take a deep breath of mountain air
Put on my glove and play some catch
It's time that I make time for that
Wade the shore and cast a line
Look up a long lost friend of mine
Sit on the porch and give my girl a kiss
Start livin', that's the next thing on my list
~ Toby Keith "The List"

I've been a list-maker and calendar-writer ever since I could write. Really. I remember being very young and writing my to-do list on a little spiral-bound 3X5 notebook. One page per day, labelled at the top of the page. Poster girl for OCD, that's me. So it's a real challenge for me to enjoy today and savor the moment rather than worrying about tomorrow and feeling guilty for not checking off everything on today's list. But that's what I'm going to try to do this week. I'm going to enjoy the people my children are this week, because this week I have a high school student and an elementary-schooler. Next week I'll have a college student and a middle-schooler. And I don't think I'm ready for that yet.
Stop by and visit Dianna at The Kennedy Adventures for Saints and Scripture Sunday. Share a scripture you've been inspired by or a saint you've found interesting, or just check and see what Di's up to. Things are always interesting at her house!