*This shop has been compensated by Collective Bias, Inc. and LISTERINE®. All opinions are mine alone. #BacktoBold #CollectiveBias
Most of the time being a #boymom makes everything easier. But we do miss out on some fun stuff.  Ruffles, bows, lace, and tulle when they're little are just the start of it. Preparing for their Freshman dorm room is another big one. I'm shopping for neutral colors, essentials only (as per my son's request). Meanwhile, #girlmoms are snapping pictures of different shades of towels, patterns of comforters, and adorable room accents to complete the theme that the roomies are texting back and forth.
They'll probably find everything they need at Target, since after nearly sixteen years of shopping for school supplies for elementary, middle, high school, and college students I KNOW it's the place to find what you need. So I wasn't at all surprised to find the mouthwash he wanted there. Everyone has nasty morning breath, especially here in the Ohio Valley where we all struggle to breath through the allergens 3/4 of the year. Mornings are for LISTERINE® TOTAL CARE mouth wash. After all, I've already spent the equivalent of a full semester's tuition on this child's smile, so he'd better protect it!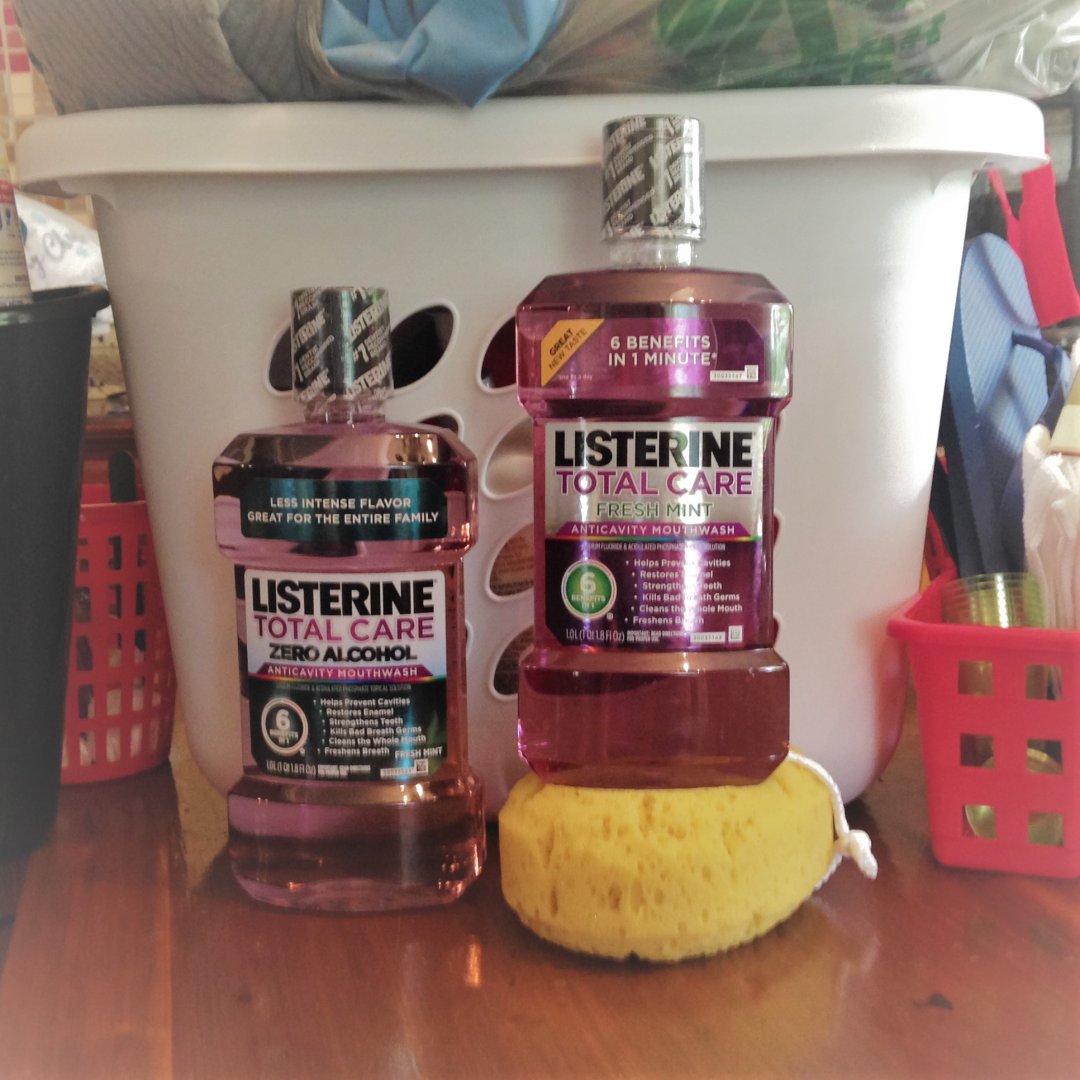 Oh well, back to my small red carrier. Red is actually considered a neutral on campus since it's one of the school colors.Here's the basic basket:
Notice the empty space next to his HUGE flip-flops? That's where the three add-in baskets come into play. If he has a sink in his room (which I doubt) he can just leave all the small baskets under the sink. I tucked LISTERINE® TOTAL CARE ZERO into his morning basket with his toothbrush and toothpaste.
Then he has his deodorant, leave-in conditioner, comb, and hairspray in another small basket that I bet he'll just keep in his room. Guys don't like to admit to actually putting a lot of effort or thought into their appearance even if they do!
He also has a bottle of LISTERINE® TOTAL CARE mouthwash in case he ate something with garlic and onions for lunch and want to be completely sure his breath is still fresh when he gets across campus for a study date. Yes, I realize I'm an overly optimistic mom.
It's SO much better than just a quick brush and floss. He'll get 100% coverage on teeth, between teeth, and at the gumline. Then the basket is right there again for bedtime!
Then there's the shaving basket. Not needed every day, but needs to be handy. It also has nail clippers and a nail file. I'm pretty proud of those two little white bundles. That's my creative and frugal contribution 😉 They are coffee filters filled with baking soda and gathered tightly with a rubber band. They are to be dropped into John's black hi-top sneakers for odor control. I really hope he uses these!
While I was in the aisle looking at the mouthwash options two college-age girls came up, complaining about how "harsh" some mouthwashes taste. I told them I was looking for  LISTERINE® TOTAL CARE ZERO (zero alcohol) with a "Fresh Mint" flavor which I'd heard was less intense-tasting, but still just as effective. I showed them the bottle of LISTERINE® TOTAL CARE I'd just found, which lists clearly (no reading glasses needed) on the front label that when used for just sixty seconds twice a day it has SIX benefits.
It not only freshens breath and kills bad breath germs, but it also cleans the whole mouth, strengthens teeth, restores enamel, and even helps prevent cavities. Thankfully, the girls helped me find it. (The Fresh Mint flavor is in small letters on the bottom right when you're shopping.) Seriously, what else can you do in just two minutes a day that has all those benefits? And if you really want to be productive you can review the periodic table or the cranial nerves while swishing (depending on your major).
The girls were super-sweet, and we all figured out the sales together. Target has a LOT of things on sale right now, and a LOT of $5 Target gift cards up for grabs. But you have to make sure you are buying the right items to qualify. When I left the aisle the girls were negotiating who would buy the 3 LISTERINE® mouthwashes, who would get the $5 Target gift card from that purchase, who was buying the 4 toothpastes and would get that $5 gift card. . . yeah. Plan on two trips so you can use those gift cards before they sink to the bottom of your purse and get forgotten!
BTW, the  $5 gift card offer is valid through 9/9 both online and in stores, so stock up! This is the general area (Health/Beauty) to look if you're not a regular Target shopper. I can find things in Target easier than I can find my glasses at home!
So I guess since John is my youngest this will be my last "Back to School" shopping post. He'll have a fridge and microwave waiting for him in his dorm room, but no roommate (yet) so I suspect his room will be the go-to place for late-night gaming on the weekends. It's been seven years since I've prepped a child for their first dorm, and so much has changed! Parents of current college students: what are your best tips? I need all the help I can get – LOL!