1.) Don't do it.  Or if you really must, do it somewhere besides your own home.  Take a spot at a group yard sale (they usually charge a small fee) or convince a friend or family member that they want to have a yard sale.  Then you just bring your stuff over and join them because that's the supportive thing to do – you know, to help attract more people.  I drove 80 miles to my mom's house with my loaded-down mini-van to avoid having a yard sale at my own house.  This is the story behind Saturday's tweets hashtagged #yardsalehell.
2.) Banish the phrase "No one would buy that" from your vocabulary.  Thirty seconds after I took a picture of these beauties someone bought them.
And then there were these:
These are University of Tennessee shirts.  This particular yard sale was being held in Lexington, Kentucky, home of the University of Kentucky Wildcats.  When I unearthed these I had to take a picture, because I knew there was no way they would sell.  I hung them all together so that anyone browsing the clothing racks would get the full effect.  The most frequently heard comments were along the lines of, "Day-um, you're gonna havta pay somebody to take those off'n your hands!" and "What the hell?!"  They did sell, at full price, to a young man who didn't speak English but was apparently fond of the color orange.  I hope one of his friends explains the whole UK / Tennessee thing to him before he wears one of those shirts to a bar on  game night and gets his ass kicked.
3.) Advertise on Craig's List, but don't post it until 24 hours before the sale starts.  People will email you with stupid questions.  One guy wanted to know if we had any guns for sale.  I'm no expert, but aren't there laws about that?  Who buys firearms at yard sales?  "Hey, does this .357 work?"  "Yeah, works great!  I shot a guy last weekend from all the way across the Deja Vu parking lot and didn't even graze the stripper he was feelin' up!"
4.) Have everything ready the night before and get up before dawn, because at dawn the sale will begin even if you have specified NO EARLY BIRDS in your listing.  And drink a lot of coffee, because the earliest arrivals will be dealers, and they will want to haggle and move quickly.
5.) If you don't haggle, designate someone else to do so and to take care of the money.  I hate to haggle – I don't even like to hear it going on.  I made a deal with my twelve-year-old son that if he helped me clean up all our yard sale merchandise I would price it, and that if he would do the heavy lifting and haggling all profits would be his to keep for his computer fund.  It turned out he really enjoyed chatting and haggling with customers and did a great job making change.
6.) Keep dogs and small children restrained for their own safety and that of the customers.  There were several near-misses in front of our yard sale, and when things got busy I would have been a nervous wreck if I'd had a little one with me.  This is Winnie, my mom's Yorkie and official #yardsalehell mascot.  She was an exception to the rule because she greeted everyone politely and stayed away from the road.  She wore out early, though, and had to go inside for a nap.
7.) Sell drinks.  Buy a couple of 12-packs of cheap soda (one regular and one diet), ice down a cooler, and sell them for fifty cents each.  On a hot day this will not only make money, but will be sincerely appreciated by your customers.  Younger kids can be put in charge of this – kind of a modern-day lemonade stand.
8.) Have snacks handy or have someone available to make a fast food run.  We ended up having a McDonald's picnic on a UK blanket in the middle of the yard sale.  I would have considered getting Panicky Smurf in my Happy Meal a bad omen had it happened earlier in the day.
9.) End it at noon unless you still have a steady stream of customers.  We had posted our hours as 8-2, but we were going strong by 7 a.m. and pretty dead by 12:30 p.m.  The serious shoppers come out early.
10.) Have a firm plan for what's left.  We sold about 90% of what we brought.  There were a few things we brought home (a desk, a set of Haviland china, and a couple of other things I can't remember), but the rest went directly to Goodwill.
John ended up making a profit of $130, which he's pretty pleased with, and I got some junk out of my house, which I'm very happy about.  If you live in the Louisville area and want a black computer desk or a set of Haviland Blue Garland china email me – they're going on Craig'slist later this week if I can't find a good home for them.
I'm linking this up to Top Ten Tuesdays and Ten on Tuesday.  I love a good list post! And I'm linking up on Wednesday for Wordful Wednesday at Parenting by Dummies and Seven Clown Circus.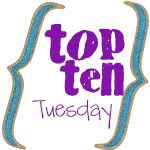 Update: and since I'm going to consider this my best post of the week, I'm also going to share it on Share Your Awesome at Momma Made It Look Easy!