This post brought to you by Bahama Breeze. All opinions are 100% mine.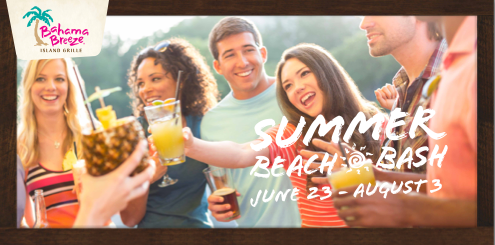 Does it seem like forever since you've had a relaxing beach vacation? Here's the solution! Carve out a few hours for you and your friends to take your own mini-vaca. Your local Bahama Breeze Island Grill is throwing a Bahama Breeze Summer Beach Bash from June 23rd until August 3rd.
The signature drink of the summer is the new Bahama Breeze Ultimate Pineapple. It's frozen, and served in a fresh-cut pineapple. Could you seriously drive by after work, see people laughing and drinking out of pineapples, and NOT go in? And you're sure to run into an old friend or two, or maybe make some new ones – Bahama Breeze is THE summer destination for good times!

On Saturdays life gets even better. Bahama Breeze provides live music and sets up a mojito bar. You can choose your own fruit and rum and watch the bartender muddle your perfect drink. Mine would include blueberries (ahem-getting my antioxidants, you know!) and my hips are already swaying at the thought of a live band with steel drums. There's just something about island music that washes all the stress of the day away for me.
I know just what I'd wear to add to the summer vibe: my favorite blue and cream print spaghetti-strap maxi-dress to show off my tan. I take hilariously awful selfies, so I almost never post them. But it you're willing to share a creative selfie showing how much you're enjoying yourself at the Summer Beach Bash remember to use the hashtag #MyBBSelfie and you'll be entered for a chance to win a $25 Bahama Breeze gift card – it's like winning another mini-vaca!
Make sure to stop by Bahama Breeze between now and August 3rd – don't let the Summer Beach Bash pass you by. Everyone deserves some good times this summer!