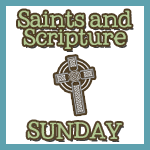 Be faithful in small things because it is in them that your strength lies.
–Mother Theresa
No, it's not scripture, but it's Mother Theresa, okay?  Work with me.  When I read this quote I found it so comforting, because the small things are all I can manage right now.  I am completely overwhelmed.  The thought of adding one more thing to my To Do List brings me to the brink of tears.  But maybe . . . just maybe . . . if I keep my head down and focus on getting through each small task one at a time . . . maybe I can find the strength for the big things ahead.
Join Dianna every week for Saints and Scripture Sunday and be inspired.