This is a Sponsored post written by me on behalf of Mrs. Smith's for SocialSpark. All opinions are 100% mine.
Like everyone else, we've been trying to eat healthier since the new year began.  But if there's one thing I've learned after decades of dieting it's that it's important to allow yourself an occasional splurge.  And that splurge should be something truly wonderful, something you can eat and say, "That was delicious and completely satisfying."  Because if you waste your splurges on a treat that's not truly outstanding you'll feel guilty afterwards and your craving won't be satisfied.
This is where Mrs. Smith's Signature Deep Dish pies come in.  They are so much better than any pie I've ever been able to bake, and the new taste combinations are inspired:
Signature Deep Dish Dutch Apple Pie with Caramel Sauce (my husband's weakness)
Signature Deep Dish Cherry Pie with Butter Fudge Sauce  (my dream dessert)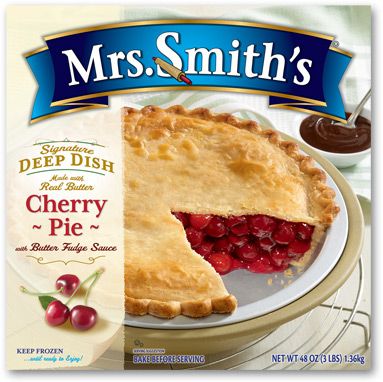 Signature Deep Dish Peach Pie with Cream Cheese Icing (Peaches and cream?  Yes, please!)
and Signature Deep Dish Pumpkin Pie with Cream Cheese Icing (Where were you at Thanksgiving?!)
You could actually buy a couple of different pies and switch out the toppings after you bake them to create your own unique pie.  You don't even have to tell anyone you didn't bake it from scratch, but be prepared to 'fess up when people start begging for the recipe 😉
Looking for ideas for mix-and-match combos?  Follow Mrs. Smith's Pies on Facebook and Pinterest.  If you're having trouble finding the new Signature Deep Dish Pies in your local grocery check her for retailers.