A new blog carnival! And one that is educational and spiritually uplifting, no less – I'm SO in.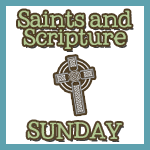 John 2:1-11
On the third day there was a wedding in Cana of Galilee, and
the mother of Jesus was there. Jesus and his disciples had also been invited to
the wedding. When the wine gave out, the mother of Jesus said to him, 'They have
no wine.' And Jesus said to her, 'Woman, what concern is that to you and to me?
My hour has not yet come.' His mother said to the servants, 'Do whatever he
tells you.' Now standing there were six stone water-jars for the Jewish rites of
purification, each holding twenty or thirty gallons. Jesus said to them, 'Fill
the jars with water.' And they filled them up to the brim. He said to them, 'Now
draw some out, and take it to the chief steward.' So they took it. When the
steward tasted the water that had become wine, and did not know where it came
from (though the servants who had drawn the water knew), the steward called the
bridegroom and said to him, 'Everyone serves the good wine first, and then the
inferior wine after the guests have become drunk. But you have kept the good
wine until now.' Jesus did this, the first of his signs, in Cana of Galilee, and
revealed his glory; and his disciples believed in him.
I've always loved the story of the wedding in Cana, and like so many scriptures, it speaks to me differently at different times. When I read it today on Sacred Space, my favorite daily prayer site, I felt strongly the themes of 1.) respecting the needs of those you love (especially when those needs are different from yours) and 2.) God loves us and is interested in all aspects of our life, even the little piddly stuff.
I've always visualized Jesus kind of rolling his eyes when his mother starts going on about the wine situation, but then, even though it wasn't an important issue to him AT ALL , he turned the water to wine because it was what his beloved mother wanted. I find it very hard to accept that someone else's priorities are different from mine and respect that, especially with those I love: "Really, you're going to spend the afternoon fixing a game console when your room looks like a pit?" But I have found that if I try to be more respectful of the needs of others they tend to try to be more respectful of mine (OK, sometimes), so it all works rather nicely.
I think many people are like me, and have a subconscious list of "things you can't pray for". You know: money, weight loss, a parking space, for the kid who's been picking on your kid to get a really huge zit on his nose on picture day, that sort of thing. Running out of wine at a wedding would probably have to go on that list, so it's nice to know that God really is interested in our lives at that level, and might just feel the time is right for a little dab of divine intervention just because he loves us. How comforting is that?
Well, this was fun! Join Dianna every week for Saints & Scripture Sunday – I know I will!